Drew Peterson Is in Prison Following the Disappearance of His Fourth Wife
In 2004, the shocking death of Kathleen Savio, who was found beaten and bruised after drowning in her bathtub, quickly gained national attention. Her ex-husband, former police sergeant Drew Peterson, was initially eyed as a suspect until her death was ruled as an accident.
But when Peterson's fourth wife, Stacy Peterson, went missing only a few years after Savio's death, he became a suspect. Now, he's serving a near-life sentence in prison. What happened to Drew Peterson?
What happened to Stacy Peterson?
In addition to Savio's mysterious death, Peterson's fourth wife went missing in 2007. Drew and Stacy Peterson had been together since she was 16, when Drew Peterson was having an affair with her while still married to Salvio.
Drew Peterson was frequently described as "controlling" when it came to his family, admitting on The Today Show, "I controlled my family… I think more people in America should control their family."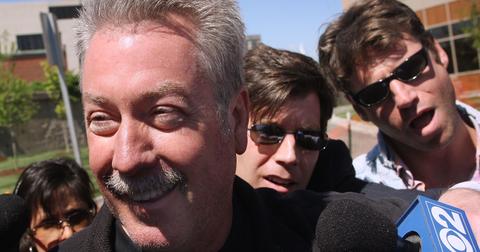 Apparently, Stacy Peterson had asked him for a divorce shortly before she went missing, something Drew Peterson claimed she did "on a regular basis." She was reported missing by her sister after she didn't show up one day to help her paint.
"When Stacy's sister, Cassandra Cales, filed the missing person's report, the reasons for Stacy's disappearance were unknown and could not be explained. It did not make sense that Stacy would leave her young children with her husband from whom she was growing apart," former captain with the Illinois State Police Carl J. Dobrich wrote for the Hillard Heintze.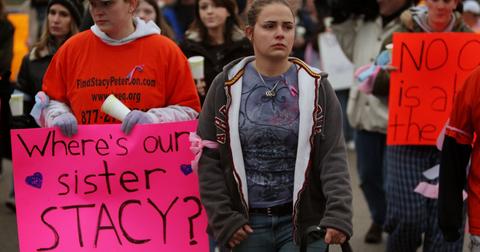 Despite going missing in 2007, Stacy Peterson's body still has not been found, though she's presumed to be dead. In 2012, her sister started a GoFundMe to help with her independent search for her sister's remains, claiming she had "solar images of her lifeless body" at the bottom of the Sanitary and Shipping Canal.
"She told me two nights before her disappearance that if anything happened to her drew did something to her and to find her [sic]," Cassandra wrote. "I begged and pleaded trying to get her out of the house but she would not leave her children."
Her body has yet to be found, though Stacy Peterson's family and law enforcement suspect foul play.