How to Send Fax from Outlook | Cocofax
Remember when much of the office was taken up by fax machines? Not to mention that they made irritating noises. Today, things are really different and it has grown with faxing. Faxing will take up no space at all with the emergence of online faxing services. 
In reality, just by downloading a plugin on your application systems, you now can submit faxes. For everyone who uses Microsoft Office, it is a very helpful function, as it enables you to submit fax directly via Excel, Word, and Outlook. The latter is extremely beneficial since you would be able to interact from mail to fax smoothly.
Why Faxing Via Outlook should be Preferred?
Sending fax takes a reasonable amount of effort, time, and technical ability. It's also expensive-buying and maintaining a fax machine takes money. Some firms spend a substantial amount of money on faxing-related expenses annually. 
Fortunately, there are fax services online like CocoFax that allow you to submit faxes immediately. In reality, without having to communicate with a phone line all along, you can also use CocoFax to send or receive faxes right from your Outlook account. It offers a quicker, smarter, & greener fax solution to all organizations & individuals. 
How to Send a Fax From outlook?
Using Microsoft Outlook, faxing via email reduces unnecessary supply costs, encourages a greener company, and saves so much time. Emailing faxes is no less than writing a standard email once the Outlook settings are properly configured. 
To send faxes via Outlook, you should have a profile with an Online fax service & our recommended brand is CocoFax. 
Here is how you can use CocoFax to fax email outlook;
Step 1 
Select the "File" tab and then choose "New," then select "Fax." If you are using Fax Services for the very first time, Outlook guides you to CocoFax to sign up.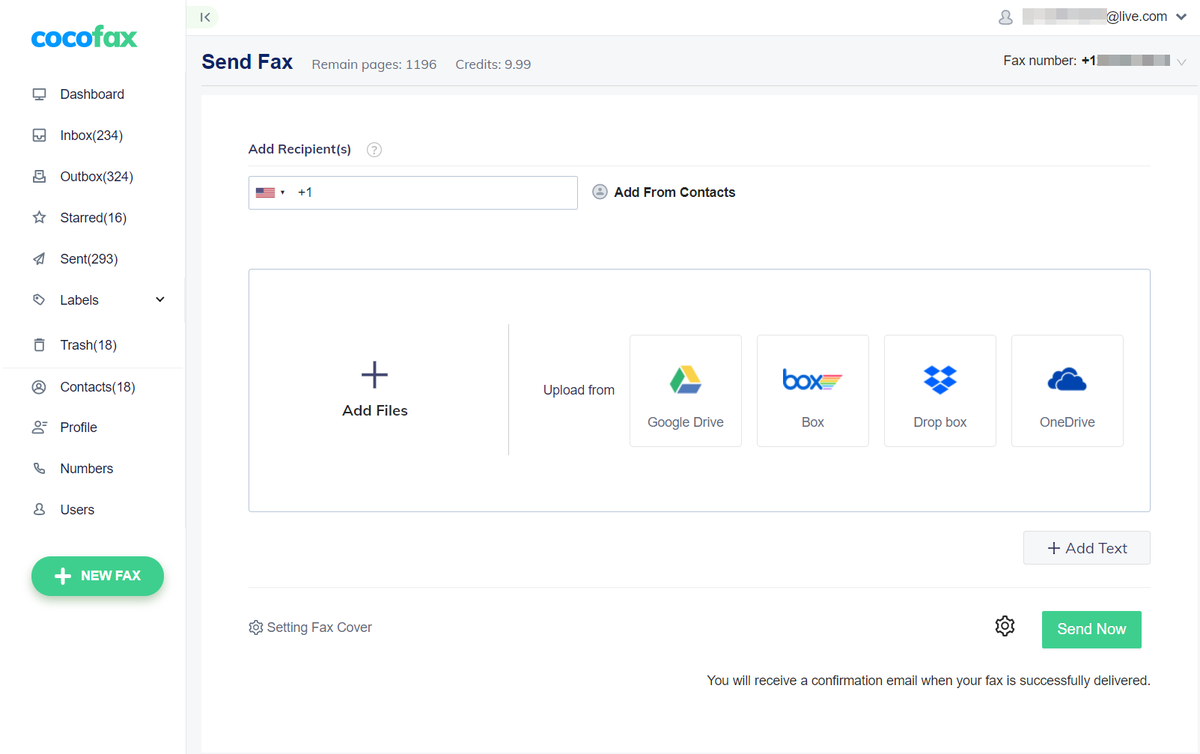 Follow the sign-up directions, go to Outlook, and press 'File,' 'New' and 'Fax' then. An email notification message opens immediately if you've already signed up for a CocoFax account. 
Step 2
Enter the email address of the receiver in the "To" section. Enter the fax number of your recipient followed by @cocofax.com. Something like 13235551234@cocofax.com
Step 3
Add the file that you'd like to fax. These files can be in any format including, Docs., Png, Pdf, JPG, Ms word, etc. 
Step 4
Enter the details for your fax in the body of the mail. Note that this is something optional. You can skip this step if you do not have any important details to share.
Step 5
Click on the "Send" button to fax the documents right away! As soon as the fax is received on the other end, you are notified. 
You can also schedule the faxes that you are likely to send in near future. CocoFax also allows you to save documents & use them later on when needed. 
How to Receive a Fax through Outlook?
It is much easier to receive a fax than to deliver it. When it comes to receiving a fax on the Outlook account, you don't have to do much. 
If you have already synced your Outlook account with CocoFax, CocoFax will send messages to your Outlook that you receive from the given fax number. That's why it's essential to have a fax number so that people can fax you anything.    
When you go to your CocoFax account, you can see the sent fax as an attachment. You can also receive all the important information, such as the fax number of the source and the fax time. 
And if you think that you need to respond with some other fax to their fax, you can do that simply by using CocoFax.
The benefits of Microsoft Outlook Faxing 
It seems like a pleasant little option to send faxes straight from Outlook, but what is the purpose to do it? Well, the convenience is a big advantage for someone who regularly uses email and wants to fax occasionally. 
You will have plenty in one location with your Outlook app, rather than using the online system of your fax service or working your way to the old fashioned fax machine. When you incorporate CocoFax with Outlook, you may also be capable of sending your fax machine to the trash bin.
That being said, while it is helpful to use Outlook for faxing, you will never have exposure to a variety of features CocoFax will offer. In order to help you with any problems, several faxing solutions can provide unrestricted secure storage and devoted support 
Keep faxes secure with Outlook 
One frequent complaint about the combination of faxing and Outlook is whether protection is diminished by doing so. We understand that online and offline faxing is a reliable contact process when performed properly. But you'll add an additional layer of uncertainty when you put Outlook into the mix.
Though there have been security problems with Outlook in the past, your accounts can remain safe if you practice good code maintenance. The Outlook software itself is also much simpler because you can add and remove your messages into the correct file and not have to depend on actual faxes or cumbersome digital fax analysis tools.
You don't really need to fax one by one, unlike conventional fax machines,  you only need to press a couple of buttons and send your faxes to multiple connections in one go.
Wrapping Up
The way people all over the world conceive of fax machines is changing gradually since faxing via email is evolving. Many have realized that faxing via email can be incredibly handy instead of being seen as an irritating part of the business.
So several people are surprised to find out how simple it is to use any email server to send a fax. It has never been easier to fax via email, whether you use a software-based email program on your Windows Computer, an android smartphone app, or an email provider. Services like CocoFax has made it easier & convenient, revolutionizing the faxing world!