John Boyega Has Some Words for Racist Fans: "F–k Off"
On May 27, John Boyega took to Instagram Live to address an unfortunately consistently prevalent topic: racism. While John has always been open and honest about his disdain for those who act with racist motives, this particular video should leave no question in anyone's mind. If you're a fan of John's and you're a racist, he doesn't want you as a fan. And, moreover, "f–k off, you f–king d–kheads."
John Boyega commented on the atrocity of racism following the death of George Floyd.
John first started with a tweet: "I really f–king hate racists." Looking at the timeline of the tweet and what else John has been sharing online, it's not difficult to figure out what the tweet is in reference to. Although, while the tweet may have been prompted by an atrocious and heartbreaking act, the sentiment is always true. 
The tweet came following the death of George Floyd and the subsequently released footage of said death. The graphic video has been making the rounds online. In it, a black man, later identified as George, is seen lying face down in the road. A white police officer can be seen with his knee in George's neck. Another officer can be seen in the video, looking at the crowd of onlookers begging the officer with his knee in George's neck to get off him, but he does nothing.
George can be heard groaning and gasping for air, while saying, "They're going to kill me, man," and, "Please, please, I can't breathe." The latter phrase should sound familiar to us all, as "I can't breathe" were also the dying words of Eric Garner, who was choked to death by a police officer in 2014. 
In the case of George's death, four officers were involved on the scene. Although all four were fired, and Minneapolis Mayor Jacob Frey is calling for charges against the one who forced his knee in George's neck, none of the officers have been charged. Eric Garner's killer, Daniel Pantaleo, also never had federal charges filed against him.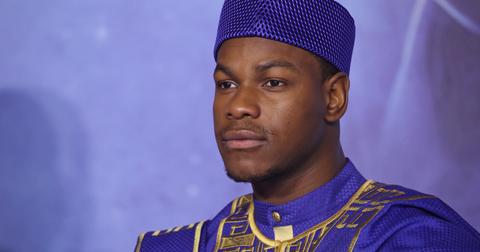 Following John's tweet, he received backlash and further explained his thoughts on Instagram Live.
While it's hard to believe that hating racists is considered a controversial thing, unfortunately, it is. And John was more than willing to address those who argued with him on Twitter, particularly those who responded to his tweet commenting that anyone could be racist. As John consistently repeated, he's referring to "white on black racism."
He also responded to many who claimed that he shouldn't ostracize fans, which led to one succinct response of, "You idiots that like to think my millions dictate my mind are the worst."
After hours of responding to tweets and clearly being tired of having to repeat himself, John stopped answering on Twitter and took to Instagram Live to share his thoughts.
After reiterating what happened to George Floyd, he further clarified his initial tweet. "I'll say it again," he said. "F–k you racist white people. I said what I said. And if you don't like it, go suck a d–k."
He went on to comment on those who attempted to tell him what his statements may do to affect his career, saying that what he's saying has nothing to do with money or his career. 
"So, first of all, you're gonna respect black people online. And make sure that if you comment on all my pictures or videos and say anything about no black people, you say any racist s–t, that's straight up blocked," he said. "I don't need you on my page. And if you're a fan of me and you support my work and you're racist and you're arguing with what I was saying, f–k off, you f–king dickheads."