Watkins Family Hour warms 'Saturday Sessions' with kindred harmonies, masterful strings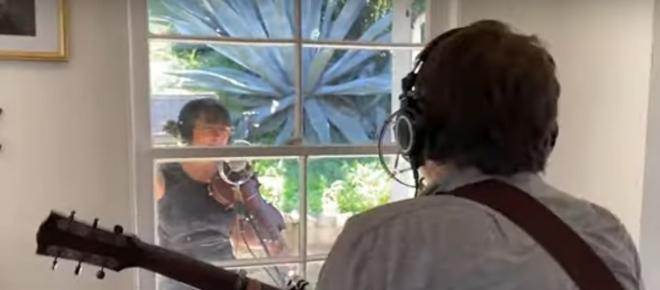 Watkins Family Hour understands the indescribable comfort and fallow creative ground fostered by the warm sun and well-loved strings. Sara and Sean Watkins have been collaborative partners as long as they can remember under those conditions. The only difference now is that the siblings have to model proper social-distancing protocol when playing, so this morning, on the May 16 edition of "Saturday Sessions" on "CBS This Morning," Sara Watkins played her fiddle on the sunny porch while Sean played guitar from the living room.
The brother and sister stood face-to-face rather than side by side, but the collective harmonies have never sounded sweeter or more nurturing than in these self-quarantined times.
The three songs were a welcome respite of realness and heart amid the horrors of the coronavirus siege. Music is always a salve for the aching soul, and the birthright harmonies and impeccable musicianship shared by Sara and Sean Watkins are rare gifts in any era.
The siblings in Watkins Family Hour stand on a firm Americana foundation and many talented friends
Bluegrass, roots music, Americana, and Country Music (by whatever moniker preferred) derive from a rich tradition of family, whether by blood or common music bonds. As Ken Burns so exquisitely depicted in his "Country Music" documentary series, the entire genres of country music or Americana would never have come into being without The Carter Family.
Nickel Creek came to be in 1989, and for many young listeners, the band's 2000 self-titled album was the first bluegrass/Americana album that broke into their consciousness. Sara and Sean Watkins and mandolin wizard, Chris Thile comprised that ensemble, and Allison Krauss produced that ambitious album that announced Americana to a new audience.
Nickel Creek garnered Grammy honors for Best Contemporary Folk Album for "This Side" in 2003 and in 2015, earned another Grammy for Best American Roots Performance for "Destination." Numerous CMA, ACM, and other Grammy nominations came for the band.
Watkins Family Hour came to be in 2015, too, in album form.
What began as Sara and Sean Watkins in 2002, joining friends that the LA nightclub, Largo, evolved into an album with some stellar friendship support for the string maestro siblings. Fiona Apple, Taylor Goldsmith, Mandy Moore, Don Heffington, and many more notable artists joined in on the album of covers produced by Sheldon Gomberg. The self-titled album still has a fervent following. Watkins Family Hour takes on everything from "She Thinks I Still Care" to the Grateful Dead's "Brokedown Palace" with unflinching vigor and bold interpretation.
Musical medicine for the spirit from Watkins Family Hour
Beyond the beauty of the natural sun shining down, the verses and lovely strings on "The Cure" were perfectly prescribed remedies from Watkins Family Hour.
The innate harmonies gifted to siblings are unlike anything that ever can be trained, and the musical interlocking of this brother and sister team is tremendously touching.
"I've been looking for a breakthrough/ Long as everything stays the same" the lyrics open. The perky bridges brighten as the song echoes "it's good, it's real, is how it's supposed to feel," leading to the admonishment that "sometimes you gotta leave town and year zero-sum games and throw everything away."
Right now, few of us are leaving town, or making faraway new plans. The blessing is that music that is so good and so real can take us on a vacation any time.
Two more offerings by the Watkins Family Hour from 'Brother Sister'
Last month, Watkins Family Hour released "Brother Sister," the duo's second album. The songs are very intimate, but the sound is very big, far beyond what most two musicians could muster. Mike Viola, known for his production on the breakout album, "Songs of America," by J.S. Ondara, lent his talents for the sophomore collection.
"Just Another Reason" is a driving acoustic engine of a song, made even more powerful by the perspective of the siblings "playing at one another" between a windowpane. Unity gels in the final close of the chorus.
Morning viewers only got to hear a shade less than 40 seconds of "Miles of Desert Sands," but thankfully, the entire version is accessible.
The lilting, lyrical ode akin to Irish traditional offerings recounts the struggle of breaking any new ground in life. The song serves as the crowning jewel of the three-song set from the Watkins Family Hour on "Saturday Sessions." The siblings are hosting virtual musical "get-togethers," per their website.
Any means to share music makes the world better these days, and Watkins Family Hour will leave listeners wishing for another hour or two. The siblings are even defter at lifting spirits than they are with lifting the tenor of morning TV Shows.
Aliexpress Standard Shipping vs ePacket – For Which One You Should Go For
Aliexpress Standard Shipping vs ePacket
Want to know the difference between these two shipping modes? With which shipping method you should go?
Out of Aliexpress Standard Shipping and ePacket, which is cheaper? Then no worries. We are here with a closer look at –Aliexpress Standard Shipping vs ePacket. We will help you out to figure these two available shipping ways.
Aliexpress Standard Shipping
Aliexpress Standard Shipping and the company is the top e-commerce site and property of Alibaba Group. Aliexpress Standard Shipping is not the cheapest delivery option but it is a reliable choice.
AliExpress offers shipping options for every taste and budget:
For those who are in a hurry.
For those who are not.
With extra fees.
With Aliexpress Standard Shipping, the parcels usually arrive within 15-45 days.
You will see the tracking number of the parcel on the product's details page when the shipment is sent. You can track the location of your package also.
Aliexpress Standard Shipping follows different chain:
Seller-> Aliexpress Warehouse->Courier->Customer.
ePacket
As the name implies, the shipping service was designed for e-commerce. It helps the customers to receive parcels quickly from online stores and marketplaces that shipped out from China and Hong Kong.
Before ePacket, products were shipped to the US from China via sea. This was a long journey, and shipping took a long time.
However, ePacket has its own requirements. The maximum length of a package is 24 inches (60 cm) and the total length, height, and thickness of the package cannot be more than 36 inches (90 cm).
Additionally, the package cannot weigh more than 4.4 lbs (2kg). Through ePacket, the product can be delivered to 35 countries.
Shipping time may vary and depends on the destination of the package, customs, holidays, and other delays. On average a package takes 10-20 days to arrive from the United States.
The two shipping methods that we are going to explore are AliExpress Standard Shipping and ePacket. Compared to the other free shipping method, AliExpress Standard Shipping and ePacket can cut down shipping time for a few days.
To know which is the best shipping option, consider the advantages and disadvantages of each shipping method.
Aliexpress Standard Shipping- Advantages
It provides free shipping to some destination countries like the USA.
Products are packed in good quality packaging.
Packages usually arrived within 15 to 45 days.
Provides many shipping options according to your choice.
Disadvantages
Packages usually arrived within 15 to 45 days.
It is ideal for small packages.
Sometimes you need to pick up your parcels.
ePacket Shipping: Advantages
The estimated shipping time is 7 – 30 days.
It is cheaper than other shipping services.
ePacket is faster than other standard shipping methods being used in China.
Disadvantages
ePacket is not available worldwide. ePacket delivers the products only in 35 countries.
There is a limitation on the size and weight of parcels.
Which Shipping Method Should I Go With- Aliexpress Standard Shipping vs ePacket?
According to my choice, you should choose ePacket as it is faster and more reliable.
From our experience, AliExpress Standard Shipping generally has a slower delivery timeframe than ePacket. But if it isn't, then AliExpress Standard Shipping should be your next best choice for affordable shipping and package delivery.
Summing it Up On :
Aliexpress Standard Shipping vs ePacket
This is all about Aliexpress Standard Shipping vs ePacket. Hope you are able to figure out which shipping method is best for you.
Give your feedback in the comment section below.
Thanks for reading!
Is AliExpress Banned In India? Can It Be Banned Soon?
Fauci says U.S. needs to 'hunker down' for fall and winter
As the U.S. makes its way to the flu season, the citizens can't go easy in their fight against this ongoing pandemic, mentioned Dr. Anthony Fauci on Thursday. Even though the total number of latest daily cases for the COVID-19 disease in the United States has been slowly yet steadily declining in the past two weeks straight, the numbers are still fairly close to 200,000 deaths pertaining to COVID-19 along with 6 million+ cases of confirmed infections.
Fauci also mentioned that we have to be cautious & work through the winter and fall season. This is because things are in no way going to be survivable with a plethora of other diseases lurking in the background.
Fauci is the director for the National Institute of Allergies & Infectious Diseases who spoke regarding the vaccine trials for COVID-19 as well as the chances of surges deemed to happen after Labor Day. He went on to note that when the United States manages to control the disease in a certain region, another one emerges as a hot spot.
This spike in the number inevitably appears whenever the states happen to lift their restrictions related to social distancing. As per Fauci, this transition from a controlled area to a hot spot is actually a depressing sight, given the fact that we already know what is responsible for the same.
One among the leading researchers for AIDS since the year 1980s, Fauci, also happened to warn about how dangerous it could be when people start undermining this virus. He also went on to compare this new pandemic to that of the initial days of the HIV virus that started with some gay men & decades later; there were 70 million+ infected individuals with millions dead of the disease.
He mentioned that the people have been through a pandemic of this intensity before, and underestimating its potential would only bring disastrous consequences. Fauci's comments related to the requirement for scientists and doctors to approach this disease with complete seriousness came just after the President was heard saying that the pandemic seriousness has been minimized as per Sports Grind Entertainment.
President Donald Trump has been highly criticized for the response made by him with regard to this virus. According to the President, he was playing down the scenario, given the fact that there was no need to create panic.
Although Fauci didn't actually mention these statements provided by the President, he surely reflected on the lessons learned from this mistake. He also added that we had no idea about the virus from the very first day. However, as we learn more about it, we need to be flexible and change the recommendations, policies, guidelines, as well as other mandates as per the information obtained.
Fauci also mentioned that these vaccine trials have been progressing particularly well. He repeated his caution and added it with optimism stating that a vaccine might be ready as we approach the end of 2020. However, he made no comment related to the vaccine trials being conducted at the University of Oxford that was paused for the week after one participant in the United Kingdom happened to develop an issue in the spinal cord area. When enquired about the possibility of a 2nd wave for the cases in the United States, Fauci mentioned that he isn't debating about the 2nd surge given the fact that we haven't yet overcome the first one. While the country is ridden with fear of the speculations of an influenza season that might start in the month of October, it might overwhelm the country's health care protocol, which is overrun with COVID-19 patients.
Although there is some good news coming in from Australia, things are looking good for the United States. Australia experienced the lightest influenza cases due to the social distancing protocol in place for COVID-19 infection.
However, it isn't clear whether the United States would experience a similar fate in this regard. To this, Fauci commented that he has no idea of the situation and its future, so he wouldn't want to predict anything positive or negative related to the pandemic.
IT ministry banned 118 more apps including PUBG: Here's the full list
The Indian government once again banned 118 Chinese applications. The name of PUBG is also included in these apps. 118 other mobile applications of China have been banned by the IT Ministry.
The Ministry of Information Technology had received several complaints from various sources, stating that users' data is being stolen incorrectly through some mobile apps available on Android and iOS platforms. 
Here is the full list of apps banned by the government on September 2:
Other Apps which are banned by the Government are :
21.Tencent Weiyun
22.Pitu
23.WeChat Work
24.Cyber Hunter
25.Cyber Hunter Lite
26. Knives Out-No rules, just fight!
27.Super Mecha Champions
28.LifeAfter
29.Dawn of Isles
30.Ludo World-Ludo Superstar
31.Chess Rush
32.PUBG MOBILE Nordic Map: Livik
33.PUBG MOBILE LITE
34.Rise of Kingdoms: Lost Crusade
35.Art of Conquest: Dark Horizon
36.Dank Tanks
37.Warpath
38.Game of Sultans
39.Gallery Vault – Hide Pictures And Videos
40.Smart AppLock (App Protect)
& 10 Bands Equalizer
61.Web Browser – Fast, Privacy & Light Web Explorer
62.Web Browser – Secure Explorer
63.Music Player – Audio Player
64.Video Player – All Format HD Video Player
65.Lamour Love All Over The World
66.Amour- video chat & call all over the world.
67.MV Master – Make Your Status Video & Community
68.MV Master – Best Video Maker & Photo Video Editor
69.APUS Message Center-Intelligent management
70.LivU Meet new people & Video chat with strangers
91.Murderous Pursuits
92.Tencent Watchlist (Tencent Technology
93.Learn Chinese AI-Super Chinese
94.HUYA LIVE – Game Live Stream
95.Little Q Album
96.Fighting Landlords – Free and happy Fighting Landlords
97.Hi Meitu
98.Mobile Legends: Pocket
99.VPN for TikTok
100.VPN for TikTok
101.Penguin E-sports Live assistant
102. Buy Cars-offer everything you need, special offers and low prices
103.iPick
104.Beauty Camera Plus – Sweet Camera & Face Selfie
105.Parallel Space Lite – Dual App
106."Chief Almighty: First Thunder BC
107.MARVEL Super War NetEase Games
108.AFK Arena
109.Creative Destruction NetEase Games
110.Crusaders of Light NetEase Games
111.Mafia City Yotta Games
112.Onmyoji NetEase Games
113.Ride Out Heroes NetEase Games
114. Yimeng Jianghu-Chu Liuxiang has been fully upgraded
115.Legend: Rising Empire NetEase Games
116.Arena of Valor: 5v5 Arena Games
117.Soul Hunters
118.Rules of Survival